Sena Ehrhardt Works With Grammy-Winning producer, Jim Gaines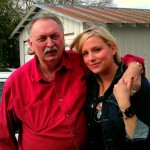 For her second recording, Sena has teamed up with one the foremost producers in the worlds of rock and blues (Santana, Luther Allison, Stevie Ray Vaughn, etc.), multi-Grammy Award winner Jim Gaines. Sena describes working with Jim like this:
"I had the good fortune of recording this album at Bes- sie Blue Studios in Tennessee with Jim Gaines. The gifts of his experience, insights and vision were so inspiring. In the stripped back setting of a country home-turned studio, Jim made the music the star, and helped bring the best performances out of all the musicians on the album. There were no pretenses—it was just about the songs and the stories behind them. I feel honored to have worked with such a legend and gentleman."
The result of their collaboration is a groove-rich, excit- ing exploration of the blues in all its moods. All In truly delivers on the promise of Leave The Light On and places Ehrhardt among the very best and most versatile of current blues vocalists.